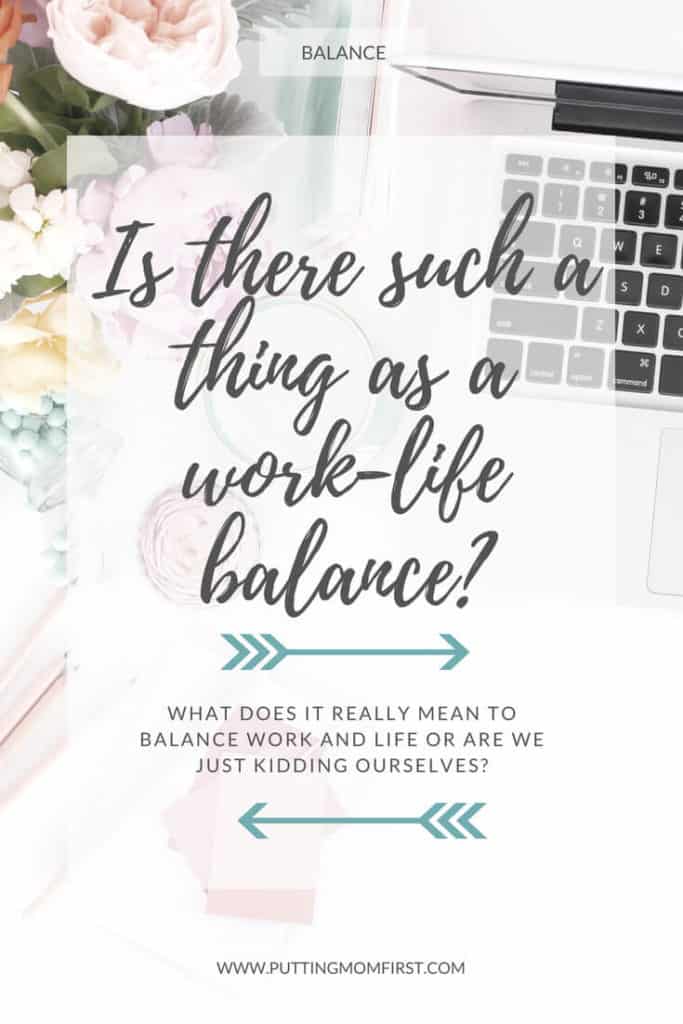 We are trained to believe that there exists some magic ability to balancing a full time job (or even a part-time job), parenthood and marriage.
The truth is, work-life balance is a myth. It doesn't really exist.
We all start our days with 24 hours. Knock off 8 hours for sleep (I can dream, ok?). That leaves 16 hours.
A 9 hour workday and a 1/2 hour commute each way leaves us with just 6 hours left in our day to get everything else done.
Getting ready in the morning takes an hour.
Getting dinner on the table and cleanup takes at least another hour.
We're down to 4 hours. Add in cleaning, groceries, errands, appointments, homework,…
The fact is, we can't do it ALL, no matter how much we want to. We have to make trades. What will take precedence today – grocery shopping or watching a movie with the family? Can we wait another day for the food? Great. Decision made.
It's not that we can't do everything. We just can't do everything all at once.
As I am writing this post on a beautiful Sunday morning, I could be outside, digging around in my garden (or finally seeding my lawn), but I am making a choice to write because the words are flowing. Will I go out to the garden later? I won't have the time, but I made a concious trade.
The garden will have to wait, and that's ok.
Which gets me to my next point. Forgiving ourselves for not doing it all.
Forgive yourself.
Say it with me. I cannot do it all, and that's ok. I will do my best for today.
Now, let's talk about how to help make the most of your time, so you can make those trades ahead of time. You see, the stress comes from making a last minute trade. "Crap! We ran out of bread for lunches tomorrow. I need to run to the store before it closes and won't have enough time to go for a walk."
If we planned the trades in advance, you can work around them so they don't feel so much like trades. "I am going to the grocery store today, so that I have more time to go for a bike ride with the kids tomorrow."
You feel more like you're planning and less like you're scrambling, but you're getting the same things done.
Choices.
What is most important to you this week? How are you going to make the time for the important things in your week? That's what you have to decide for yourself. Then plan it, and plan the household things around it.
Have you ever heard the story of the Professor and the jar? Here is a short video with the story. https://www.youtube.com/watch?v=SqGRnlXplx0
Now go take care of one of your golf balls. The rest can wait.