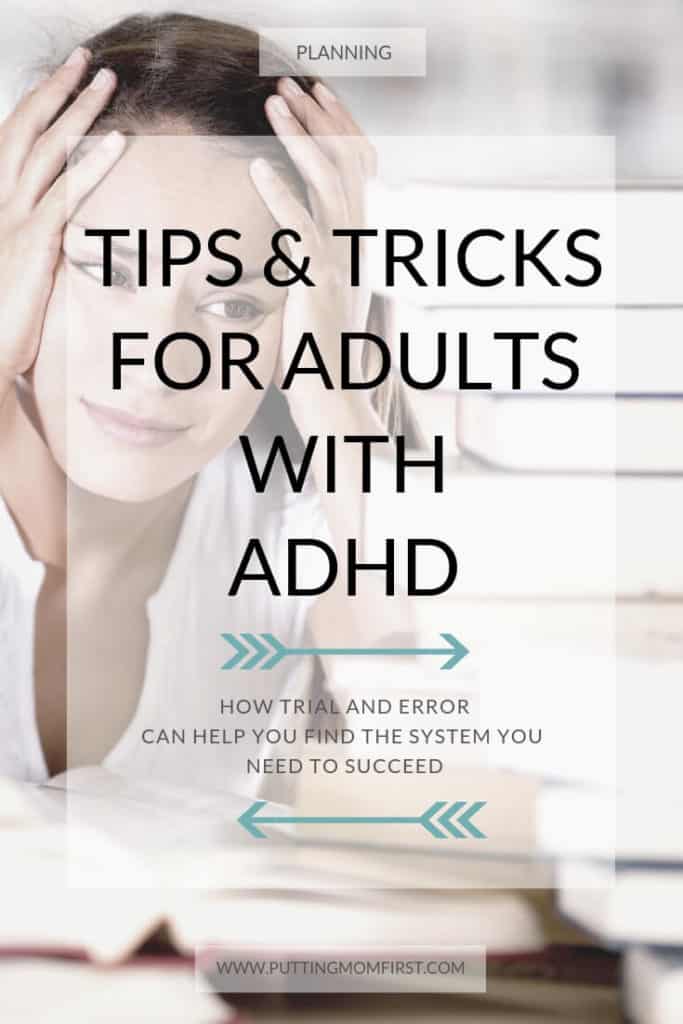 I don't know about you, but I am a procrastinator extraordinaire.
If I don't write out what I need to get done in a day and decide when I'm going to do it, I will be sitting at my computer and scrolling. There is no crappier feeling than realizing that you just lost an hour (or 3!) of your day to the Facebook vortex.
(This post contains some affiliate links for your convenience (which means if you make a purchase after clicking a link I will earn a small commission but it won't cost you a penny more)! Click here to read my full disclosure policy.)
Writing it all down
As an adult with ADHD, I am constantly trying to find processes that will work with my brain (or trick my brain into working how I want it to!).
Some of these processes include writing EVERYTHING down.
I have a love of Bullet Journaling because it keeps all my lists and notes in one place so I don't lose things or forget where I write them down. I also find that the process of writing something with a pen on paper, helps me remember it better. If I don't get something on my list done and need to move it forward, the repetitive action annoys me enough to want to get the thing done so I don't have to keep writing it down!
(If you want to learn more about how to get started, you can check out www.bulletjournal.com, or head over to Amazon to pick up a copy of THE BULLET JOURNAL METHOD that came out recently.)
What I also love about the Bullet Journal method is that it isn't a one-size-fits-all planner. I have been a planner addict for most of my life. I have always been with my notebook or binder or agenda in-hand. My problem is, I get bored. I don't use the planner fully and I feel like a failure. Or I need more space. Or I need more pockets. I'm never satisfied with the ones that are available.
My bullet journal evolves with me. I may keep the same layout for a few months and then try something different. I can go back to the old layout or incorporate the 2 into something completely new. I don't get bored because it is dynamic. It is whatever I need it to be at any given time.
Using list apps
I also love a good list app, but they often turn into an abyss for me. If I don't get something done by the due date I set, I don't feel any rush to do it. It's late already, what's another day? (I am also not the most competitive person you ever met.)
That being said, household management using shared lists is a great tool! Our family currently uses AnyList for our grocery lists (I have one for the supermarket, Costco, Walmart, and the pharmacy), for packing lists for trips, for household repairs, and a few other things. The shared list feature allows us to each add to the list. What that means is if my kids yell out that we're out of waffles, I yell back "put it on the list". On the rare occasion, I'll find some really funny things added ("lots of steak!" or "1000000 baguettes"), but I can choose whether to ignore or buy.
My brain is always on the move
My biggest challenge is I am always thinking of ALL the things that I need to get done. There is a constant stream of lists running in my head. On the nights that I wake up in the middle of the night to pee (cause lets face it, you do it too), I will often lie awake for the rest of the night with every thought EVER running through my brain. Getting up and getting them down on paper is often the only thing that shuts that off. Keeping my notebook by my bed has helped me.
What I've been trying to do is find some time in my day for quiet. This is beyond hard for most people, I know that it really is a huge challenge for me. I started using the Headspace app a couple of years ago. I don't think I've ever made it a full week. When I notice that I'm particularly spacey, I'll go and sit down on the couch and put on a meditation that seems to fit my day. I'm trying to get better at this, but I am a constant work in progress.
Pomodoro timers and headphones
There are many tasks in my day that require me to set aside time to quiet my mind and get it to a place where I can access clear thoughts, like sitting down to write, for example. I find that all the reminders, notifications, phone calls and random thoughts that pop into my brain are huge distractions for me.
I recently started using a Pomodoro timer. You can do this by simply setting a timer on your phone for 25 minutes, turn on airplane mode and press start.
I also use headphones with instrumental music (you can find lots of options on iTunes, Amazon Music or Google Play), and I just focus on what I need to do for 25 minutes. The headphones help me block out random sounds and thoughts. It annoys the crap out of my family because I can't hear when they speak to me, but that's also kinda the point when I need to get something done.
When I don't use this method, I will often convince myself that I don't have enough time to get something done. This is just 25 minutes. You can check your clock and see if you have that time. If you do, GO. Get something off your list. After 25 minutes, stop where you are. You can come back to it later.
You don't need to reinvent the wheel
I'm putting this all out there because we forget that we don't need to reinvent the wheel. It is our job to find whatever tools are out there (and there are a lot of great tools) that work for each of us.
Listen, the things that work for me may not be the same as those that work for you. Sometimes hearing how someone else uses a tool can give us that AHA moment that inspires us to try something different that may be just the thing that we are looking for.
Let me know what your favourite tool is to help you stay on track. You can share them in the comments below or share them with me here.