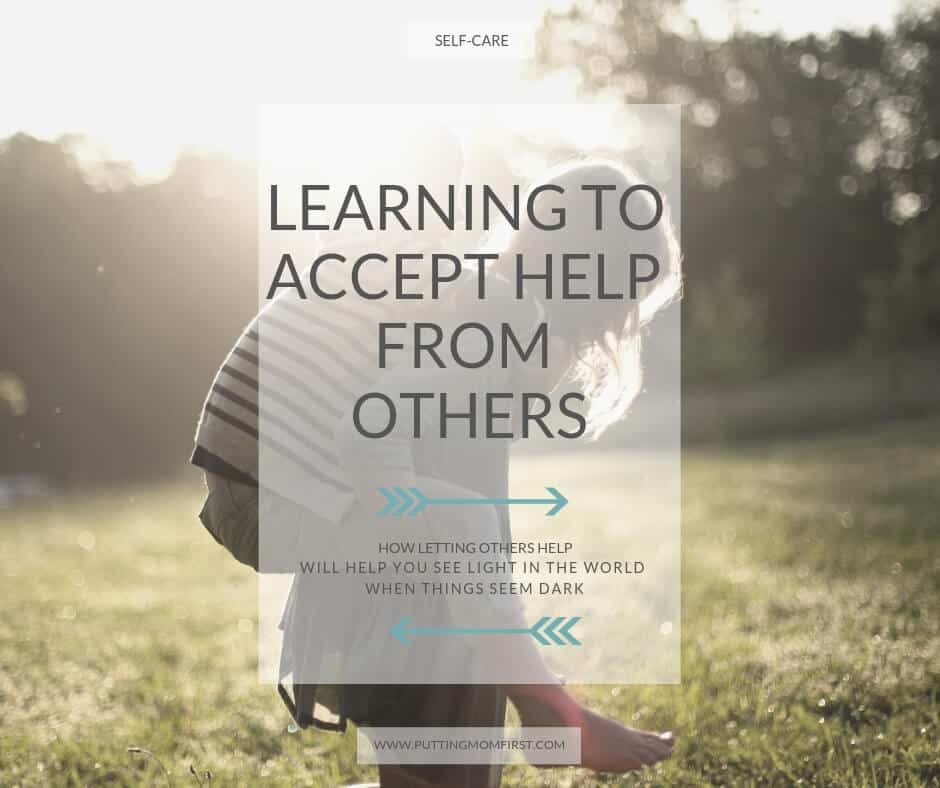 This is a story of how I learned to accept help from others.

I spent most of my life being incredibly independent. Not in the way that you might think of independence, as WANTING to do things on my own. Independent in the way that I felt that if I didn't do something for myself, it may not get done for me.

My parents divorced when I was very young.
Being raised by a single mother meant that I learned about responsibility from a young age, but it also meant that there were many things I tried to figure out for myself. I didn't want to burden anybody.

My husband and I started dating when we were just 18, and married when we were 22. That may seem very young, but I can say that when you meet the right someone and they show you what being loved and cherished really feels like, age is of no consequence.

We have grown together and learned about life together. He is my partner in all things and he is the rational side to my emotional one.

My husband is my first constant and my true home.

In 2008, he was diagnosed with Hodgkin's Lymphoma and with 3 young children, I had to hold down the fort, so he could focus on healing.

If you ask me what the first challenge I faced after his diagnosis was, it was learning to say "Yes" when someone offered to help me with something.

I know. It sounds ridiculous. I had amazing people around me that were willing to help.
Why would that be a problem?

As a person who has always been used to relying on myself, I found it hard to "bother" someone else with doing something for me. It took some convincing by close friends who gave me a serious talking-to for me to realize that this was bigger than me and I needed to accept the help.

And that's when I realized that we were not going through this alone.

There were people who made sure that there was always a meal at our house on treatment days (before Meal Train was a thing!). There were people who showed up every Friday afternoon, before Shabbat, to bring us a tray of shnitzel, and others who brought us wine and cake. There were friends who sent their kids over with bags of specialty tea, because they knew I loved that.

I remember one evening, standing in front of the full, open fridge, unable to think clearly of how to physically put a meal together for my kids. My brain just wasn't working. At exactly that moment, the phone rang. My neighbour called to called saying she had made too much food for dinner (is that even a thing??!?). She was sending her son over with supper for us. I started crying. How did she know? How were people SO thoughtful?

The first thing that I do now, when I hear that someone has had a diagnosis, or experienced a tragedy, is speak to them about accepting help.

It is our knee-jerk reaction to say "I'm ok, but thanks for the offer."

What if you accept the help?

You will be amazed to see the kindness that people have to offer. Big gestures aren't what I'm talking about. It's the little things that actually help you get through the day that will leave you in awe.

And at a crappy time, seeing these amazing examples of brightness and beauty is what will help you put one foot in front of the other and get to the other side of whatever you're facing.

Look for the helpers. You will always find people who are helping.

Mister Rogers' mom
I am writing to you 10 years later, with a grateful heart and a healthy husband. There are friendships that formed in that difficult time. There are people who truly became extended family through their actions and love. And I will be forever grateful.